A stay in Twin Lakes… magical!
Twin Lakes lodging opportunities include Historic Inns & Lodges, Bed & Breakfasts, Cabins and Vacation Rentals, all ready to host you, your family and friends for a fabulous visit to Twin Lakes and southern Lake County, Colorado.

AAA-approved lodging close to the lake and South Elbert Trail. Free guest wifi, private entrances, spectacular views, natural amenities, with continental breakfast included. Call for reservations:
719.486.9345

The oldest lodging facility operating in Lake County, this historic Inn was built in 1879. Once a stagecoach supply stop and even a brothel, the Inn has been lovingly preserved and updated. It features 12 uniquely furnished rooms, four with private baths. The Inn also offers a full-service restaurant and bar plus on-site massage and healing touch by a registered nurse.
Reserve online, or call:
719.486.7965

Searching for a distinctive, romantic Bed & Breakfast? Located 500 feet from the shore of Colorado's largest glacial lake, all rooms have a private bath. Full hot breakfast each morning, plus a recreation room, sun deck, and hot tub. Welcome to Ores & Mine! Call:
719.486.3552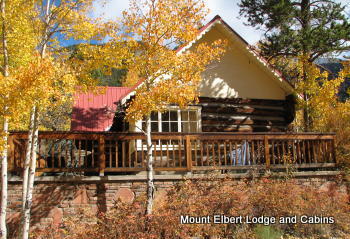 Open all year and offering Colorado vacation cabins and Bed & Breakfast lodging on Lake Creek. Mount Elbert Lodge has been serving guests for over 70 years with peace, quiet, and an incredible setting. For reservations, call:
719.486.0594

Other Twin Lakes Lodging…
Lone Pine Lodge 310.245.0992
The Lazy Dear 719.486.1978
Windspirit Cabins and Cottage 719.486.8138
WinMar Cabins 719.486.0785
Wolf Den 214.674.3656

Visit the websites and contact your choice of one of the Twin Lakes Lodging hosts who are ready to welcome your visit to this unforgettable area of Colorado.